Welcome to our blog on how to enable SaaS discovery in your Enterprise Architecture Management. Are you ready to take your organization's digital landscape to the next level? Let's embark on this exciting journey together. 🚀
Step 1: Exploring SaaS Discovery
Before we dive into the technicalities, let's understand what SaaS discovery is all about. In essence, it's your key to uncovering all the software-as-a Service (SaaS) applications used within your organization. Imagine having a bird's-eye view of your digital ecosystem! We offer multiple ways to achieve this.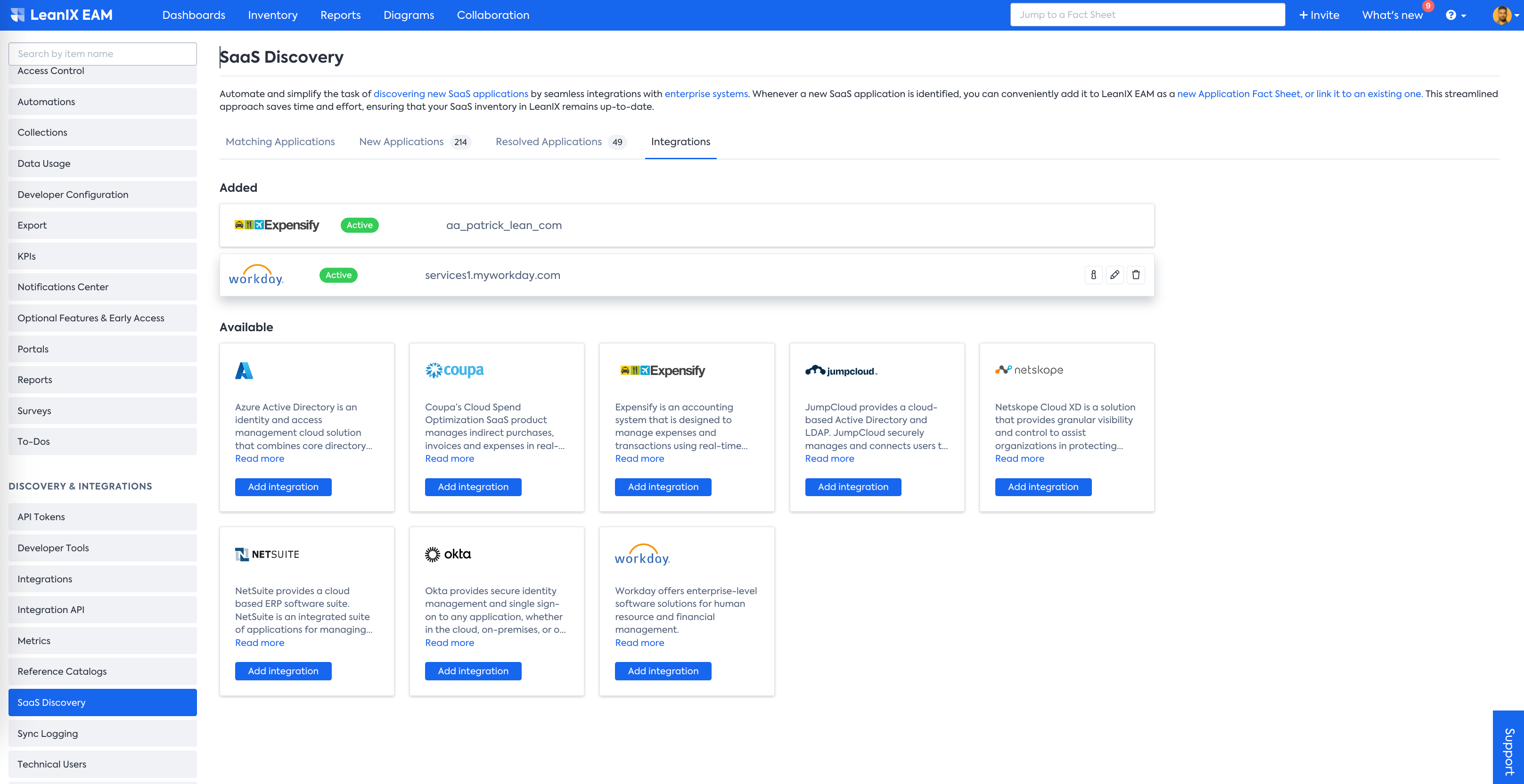 Discover Integrations: Check out the Discover integrations available in our EAM product. If you can't find the one you're looking for, no worries! We have alternatives.
Custom Integration: Want something tailor-made? We've got you covered. You can set up custom integrations to fetch data.
File-Based Discovery: Prefer working with spreadsheets? You can set up an Excel file and let our machine learning algorithm do the rest.
To dive deeper into how SaaS services are discovered using key enterprise systems, check out our community blog: How Do SaaS Discovery Integrations Unlock Your Digital Ecosystem?
Step 2: Enabling SaaS Discovery
Now, let's get down to business. To enable SaaS discovery in your EAM, follow these steps:
Go to your EAM workspace: Log in and navigate to your EAM workspace.
Access Settings: Look for the "Settings" tab.
Advanced Settings: Under the "Advanced Settings" section, click on "Data Usage."
Here, you'll find that LeanIX provides advanced insights and assistance based on data from outside your workspace. But to access these features, LeanIX needs your consent.
Step 3: Sign the amendment and opt-In for SaaS Discovery
To make these powerful features available to you, we require your participation. Here's what you need to do:
Click on Opt-in Process: In the Data Usage section, you'll see an "Opt-in Process" button. Click on it.

Sign the document

: You'll be redirected to a document that you need to sign. Don't worry; it's a straightforward process.
Step 4: Verification and Activation
After you've signed the document, our legal team will review it. If everything checks out, you're on your way to unlocking SaaS discovery! Typically, SaaS discovery will be enabled within the next 24 hours.
Facing Issues? If you encounter any issues or have questions along the way, don't hesitate to reach out to our support team. We're here to help you every step of the way.
Important Note:
This procedure is the same for all our valued customers as well as our partners. We believe in transparency and giving you full control of your data, which is why we ask for your consent. Rest assured, your data is in safe hands.
So, are you ready to harness the power of SaaS discovery in your EAM product? Follow these steps, and you'll be well on your way to gaining invaluable insights into your organization's digital landscape. Feel free to reach out if you have any questions or need assistance. Your journey to EAM excellence starts now! 🌟
Best answer by Mostakim Mullick 10 November 2023, 12:46
View original